We are now registering for The Cove Extended Day program at Ketterlinus! Registration fee's registration fee's for both VPK and The Cove are $50 per student.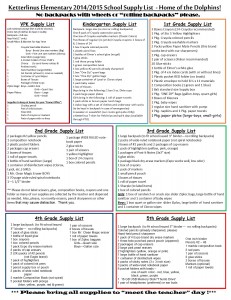 To print the supply list, click here:  Supply List 14 15
Ketterlinus Mission Statement
KES will accomplish the highest academic achievement possible for each of our students within a safe learning environment that is staffed by caring, highly qualified teachers and staff.
Ketterlinus Elementary School Value Statement
We believe that "all children can learn and succeed" but not on the same day in the same way
We believe that increased student achievement, along with school safety, should be our top priorities
We support the six pillars of character as outlined in the Character Counts! Program
We strive to build a true professional learning community
We understand the critical connection between home and school
While supporting high standards and the need for a core academic curriculum, we also believe in the theory there are multiple intelligences in human beings
Character Counts at Ketterlinus
Now Enrolling VPK – 5th graders!
Important Dates:
August 4th & 5th from 8:00 a.m. – Noon:
Kindergarten Screeners – please bring your Kindergarten student to our KG screening! Each screening will last about 15-20 minutes
August 7th at 4:00 p.m. – Ice Cream social for all NEW Ketterlinus Dolphin Students
Orientation Dates:
VPK – Thursday, August 14th from 5:00 – 6:00 p.m.

Kindergarten – Thursday, August 14th from 6:00 – 7:00 p.m.

Grades 1st – 5th – Friday, August 15th between 1:00 – 3:00 p.m.
Please click on the image below for complete details. Detailed information can also be found on our registration page.
NOW ENROLLING FOR VPK and KINDERGARTEN FOR THE 2014/2015 SCHOOL YEAR!
We still have a few spaces available! 
Please call (904) 547-8540 for more information.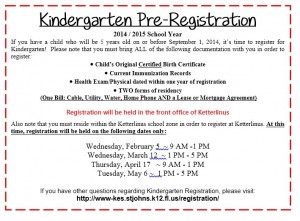 School Newsletter
Enter your email address and click the Subscribe button to receive our school newsletter via email.

Empowering Excellence in Educators
Learn about St. Johns County School District's new instructional evaluation system that will advance student growth and academic achievement.
Reading Connection