Please make sure to take advantage of our Cove incentives for 2019-20 school year:
*Registration fees paid on, or before, June 30th are $35, $60 after June 30th
*Registration fee waived if 1st month payment for 2019-20 school is received by the last day of school, 5/24/19.
Please contact Janet Bryant if you have any questions.
541-8971
What's A Happy Gram?
You may start seeing a small note coming home with your student called a Happy Gram.  A Happy Gram is a recognition that on that day you child did something exceptional, really showed their character, or made a difference.  The child may show the note to Ms. Janet or the front desk staff for a treat.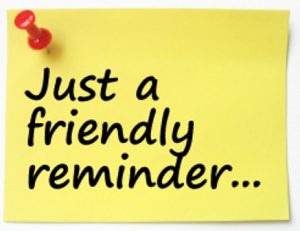 As of May 1, 2018, we can no longer accept checks over $500.00. If you need to make a payment over the amount of $500.00, we will need it written in multiple checks. We are sorry for the inconvenience. Thank you!
Cove services are paid one month in advance beginning July 15th.  School consists of 180 days.  To make a convenient payment schedule we divide the full amount of those 180 days into 10 payments (20 if bi-monthly payments).
Once again we appreciate your continued support and participation in our program. Our goal is to provide you and your family with the highest quality of care.